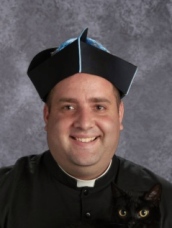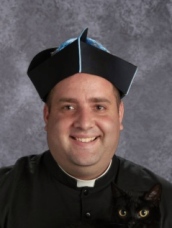 Rev. Michael A. Black
I am Roman Catholic priest of God Most High for the Diocese of Covington. I am originally from the El Paso, Texas/Ciudad Juárez, Mexico area and grew up speaking both Spanish and English. After God and His Holy Church, I love the "Beautiful Game" of soccer, which I deem as God's favorite sport. I earned an Honor's Bachelor's Degree in Philosophy and Theology from the University of Notre Dame. I studied for the Priesthood at the Pontifical College Josephinum in Columbus, OH where I earned an M.Div., M.A. in Systematic Theology, and an S.T.B. through the Pontifical Lateran University in Rome in Systematic Theology. In 2020, I earned a Ph.L. in Philosophy from the Catholic University of America in Washington DC.
I thoroughly enjoy my role as Chaplain, Coach, and Teacher at Saint Patrick School! I passionately seek to fill the halls of our school with an authentic Catholic ethos. My goal, is to educate my students as well as instruct; in other words, while I cultivate their minds, I seek to cultivate their hearts, preparing useful citizens not only for society but for Heaven. I seek to train the intellects of my pupils, cultivate their faith, and instill the virtues necessary for the living of a good life.
Email Me
Join Zoom Classroom